InSinkErator HC1100LC | Instant Hot & Cold Water Tap – Chrome

Description
InSinkErator HC1100LC Instant Hot & Cold Water Tap Chrome
This tap system InSinkErator HC1100LC provides instant, up to 98'c water when you need it. This is great for making Tea, Coffee and preparing food. This InSinkErator HC1100 comes complete with a 2.5 litre boiler unit that keeps the water at your chosen temperature ready for when you need it. Intended as a secondary tap, this HC1100LC will fit nicely alongside your existing mains hot and cold tap to provide you with filtered drinking water and near boiling water.
What is a Hot Tap?
An instant hot tap is a tap that is connected to a boiler tank that keeps water at almost boiling temperature under your sink. Once heated, the water is kept at around 98°C with around the same energy use as a light bulb. This saving huge amounts of energy and It works out as more energy efficient to do this rather than constantly heating a kettle.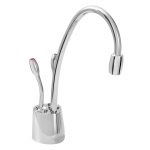 The Water Tank
The boiling water HWT tank that is included can dispense up to 60 cups of water per hour! The temperature can also be adjusted between 88ºC and 98ºC via the rotary dial on the front of the tank. This is ideal for those speciality tea drinkers that need the water that little but cooler to get the perfect brew.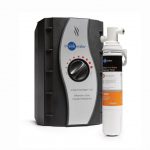 How safe is the InSinkErator tap?
This InSinkErator tap has some great safety features. The HC1100LC tap is fully insulated to avoid the tap getting too hot to touch. The leaver also has a safety release feature that will shut off the water flow automatically when you release the lever.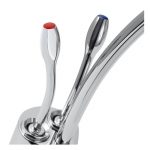 What is included with the InSinkEartor tap?
This listing includes the Tap HC1100 and installation kit so you will get one water filter F201R in addition to the InSinkErator Original HWT Boiler. All you need to get your new InSinkErator system fitted.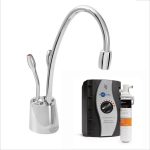 How easy is it to install an InSinkErator tap?
Installing the InSinkErator HC1100 tap is incredibly easy with the InSinkErator installation kit and you also get a 2 year guarantee on the Hot Tank and the Tap! The main things to consider when installing the tap is the tap hole / cut out size and the space required under your sink for the boiler and filter system. This model is made from high quality, low lead brass and is designed and manufactured in Italy all making the InSinkErator taps as durable and desirable as they are.
Top Features & Spec
Easy to install with the InSinkErator solid surface mounting
1 year guarantee
88ºC and 98ºC steaming hot water when you need it.
2.5 litre Boiler Tank (around 60 cups per hour)
Chrome Finish HC1100 Tap
Energy efficient and economical
Safety release tap lever
Elegant design
Made of solid high quality low lead brass
WRAS approved
Smooth laminar flow
For details on InSinkErator Boiling Water Taps and InSinkErator Boiler Units you can read our InSinkErator blog. 
Tap Detail
Chrome finish
Required hole diameter: 35mm – 38mm
HWT Tank detail
Large 2.5 litre stainless steel tank
220V – Plug already attached
6.25 amps
750 W
Adjustable from 88˚C to 98˚C
Supply pressure 1.7 – 8.6 bar
View all InSinkErator products.
Additional information
| | |
| --- | --- |
| Capacity | 2.5 Litre |
| Control System | Lever |
| Electrical connection | Corded 13amp |
| Filtration Type | F201R Filter |
| Manufacturer | |
| Manufacturers Warranty | 2 Years Parts and Labour |