Maytag 3LMVWC315FW 15kg Semi Commercial Toploader Washing Machine

Description
Maytag 3LMVWC315FW Semi Commercial Toploader Washing Machine
This impressive looking Maytag 3LMVWC315FW semi commercial toploader washing machine has plenty to offer with both a large 15kg load capacity and American style look.
With multiple washing features including four wash temperatures, three soil level options, nine wash programmes and an extra rinse option, any wash requirements can be confidently achieved with this machine.
It runs off a hot and cold supply, which is typical for commercial washing machines – this means it doesn't have its own element, it relies on your own hot water to supply the machine.
It also has a 6 months commercial warranty that covers the item to be used in a business setting. This makes this large washing machine ideal for all kinds of businesses such as launderettes, restaurants, bed & breakfasts and hotels. It is also an ideal product for larger families, and when used in a domestic setting the warranty cover is 12 months.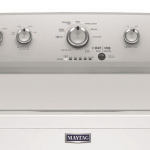 Key Features
Full 6 months Parts and Labour Commercial Warranty and 12 months Domestic Warranty
Toploading, Freestanding Semi Commercial Washing Machine
Large 15kg Load Capacity
800rpm Spin Speed
9 Wash Programmes and 4 Wash Temperatures: cold, cool, warm, hot
Rotary Electromechanical Controls
Stainless Steel Tub
Extra Rinse Function
Intellisense Sensor
Microtator Agitator
Automatic Water Level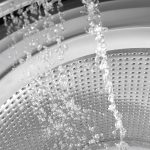 Maytag recommend the use of high efficiency detergents. They produce lower quantities of suds. The use of normal detergents will be detrimental to the overall performance as too many suds will be produced.
Dimensions – mm
Height: 1080
Weight: 685
Depth: 650
Important notes
Maytag recommend the use of 'high efficiency' detergents as they produce low quantities of suds.
The use of regular detergents will be detrimental to performance as too many suds will be produced.
This commercial washing machine does not have a built-in heater as it makes use of a hot & cold water feed
View all laundry and shop by brand on our dedicated laundry page.
Additional information
| | |
| --- | --- |
| installation | Free Standing |
| Main Colour | White |
| Manufacturer | |
| Capacity | 15kg |
| Control type | Push Button and Rotary |
| Spin Speed | 800 rpm |