Best Commercial Washing Machine & Tumble Dryer?
In this blog we aim to detail our MayTag Commercial Laundry machines. We think these are the best commercial washing machine & tumble dryer available for small to medium business. We also hope to offer more insight into their uses and suitability to your requirements.
Businesses & Domestic Use
Many businesses require commercial laundry appliances like washing machines and tumble dryer. Including launderettes, hotels, B&Bs, restaurants and other hospitality businesses. Our MayTag commercial washing machine and tumble dryer offer reliable service with larger capacities than standard domestic machines. Also suitable for domestic use and ideal for those larger families, we have a MayTag commercial washing machine that can take a load of up to 15kg and a MayTag commercial tumble dryer with a 10.5kg capacity.
MayTag is a top appliance brand, owned by the Whirlpool Corporation, and makes dependable machines that you can rely on.
Our two commercial appliances from MayTag will allow you to run your business efficiently.
MayTag Commercial Washing Machine
MayTag 3LMVWC315FW 15kg Semi Commercial Toploader Washing Machine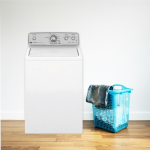 This toploader washing machine is ideal for small commercial operations, or for handling even more demanding work when several machines are combined with each other. The larger capacity of this 15kg machine, compared to many domestic machines that have a capacity of around 7-8kg.
The toploading, American-style design is ideal for efficiently loading laundry, with easy to access controls that reduce the need for bending down, helping to improve health and safety. The larger size is ideal for businesses needing to wash bedding, tablecloths or other large items, or large loads of uniforms and other garments.
This commercial washing machine has 9 wash options, an extra rinse option and 4 wash temperatures to offer a variety of choices for each wash. It features an Intellisense sensor, which adjusts the cycle of each load to help save energy. It has three modes for light, regular and heavy loads to make it even easier to customise every wash. With a warranty that covers you for 6 months, or 12 months in a domestic setting, you can rely on this washing machine.
The machine uses both hot and cold water feeds, and MayTag recommends the use of high-efficiency detergents to get more from the machine and protect it.
You can view all of our washing machines here. 
Maytag Commercial Tumble Dryer
MayTag Semi Commercial Vented Tumble Dryer 10.5kg 3LMEDC315FW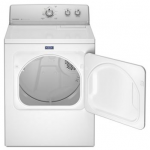 Although the capacity of this commercial tumble dryer is not quite as large as the MayTag washing machine that we stock, it still offers a larger capacity suitable for businesses. Featuring an auto dry system, along with 5 automatic drying programmes, 2 programme options, and 4 drying temperatures (low, medium, high and air fluff), the dryer allows you to choose the settings that suit your needs.
The rotary controls are easy to use, making it easy to set each load to your requirements.
Dry your laundry without experiencing overheating problems with this American-style dryer. It has sensor-driven drying programmes, which help you to save energy with more efficient drying.
This dryer also has a commercial warranty for 6 months or a domestic warranty for 12 months. It is ideal for pairing with the MayTag 15kg washing machine, with its large capacity and 4.6kW power consumption.
MayTag's commercial laundry appliances are excellent for a range of business uses, whether you offer them for your customers or use them behind the scenes in your hotel, restaurant or other business.
You can view all of our tumble dryers here.