InSinkErator Boiling Water Taps
There are many types of InSinkErator boiling water taps on the market and it can be difficult choosing the rite one for your home. Here we intend to showcase some of the InSinkErator range of hot taps and explain how they work. As well as answering some frequently asked questions.
InSinkErator the brand
InSinkErator are one of the most popular manufacturers of boiling water taps in the UK. They make a wide range including single lever boiling water taps, all the way to great looking 3 in 1 water taps that provide near boiling water and mains hot and cold water. For a full history of the company and how they came to be one of the leading manufacturers you can read A History of InSinkErator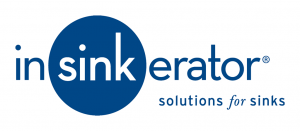 What is a boiling water tap?
An instant hot tap is one that is connected to a boiler tank that keeps water at almost boiling temperature under your kitchen sink. Once heated, the water is kept at around 98°C with around the same energy use as a light bulb. This saving huge amounts of energy and It works out as more energy efficient to do this rather than constantly heating a kettle. Boiling water taps are great for making Tea and Coffee quickly when entertaining, cleaning and preparing food.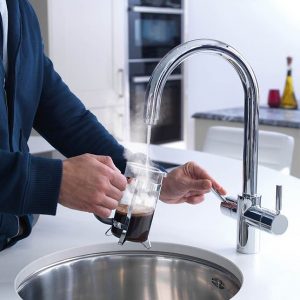 How safe is the InSinkErator tap?
InSinkErator taps have varying levels of safety features depending on the model you choose. All have automatic shut off levers for the near boiling water like the InSinkErator GN1100C and the InSinkErator HC1100LC and some even have safety lock features on the boiling water lever like the InSinkErator 3N1 U and the InSinkErator 3N1 J. What ever tap you choose to go for they are all insulated to keep them cool to the touch for as long as possible.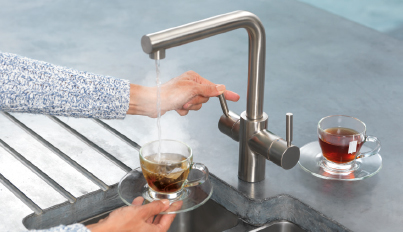 How easy is it to install an InSinkErator tap?
Installing an InSinkErator tap is incredibly easy with the InSinkErator installation kit that we include with most tap listings on our website. The main things to consider when installing the tap is the tap hole / cut out size and the space required under your sink for the boiler and filter system. Some InSinkErator taps are intended to be secondary taps such as the InSinkErator GN1100c and the InSinkErator HC1100LC. These can be installed alongside your existing mains hot and cold tap. Whereas other 3N1 models like the InSinkErator 3N1 U and the InSinkErator 3N1 J are all in one taps that provide mains hot, mains cold and boiling water. This means you can have all three elements in just one tap.
How long do the InSinkErator filters last?
The InSinkErator filters should last around 6 months depending on how often you use your tap. There is a handy calendar chart on the F701R filter itself that you can mark to remind you when you last changed the filter. However if you find that your drinking water is not tasting quite the same and as fresh as it used to, you can changed the filter. We strongly recommend the use of the genuine InSinkErator filters as they are tried and tested to keep your tap system working correctly and will not invalidate your warranty. You can buy your genuine InSinkErator replacement water filters here.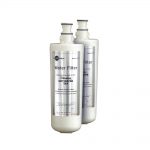 Our InSinkErator Top Pic and why.
InSinkErator HC1100LC
This tap system we sell as a complete package including the HWT Tank, Water filter and Tap. Leaving you with nothing else to consider other than the installation itself. We have been working with InSinkErator to produce this model to provide both great design and value for money. This InSinkErator system includes the hot and cold HC1100C tap and the original HWT boiler that produces 60 cups of near boiling water per hour.
What are the differences between the HC1100C (NeoTank) and HC1100LC (Original Tank)?
The main differences between these two models relate to the boiler you will be installing under your kitchen sink. We have detailed the main feature and spec differences below.
| | | | | | |
| --- | --- | --- | --- | --- | --- |
| | HWT Original Tank | | vs | NeoTank | |
| | | | | | |
| | 60 cups per hour | | | 100 cups per hour | |
| | Black finish | | | White finish | |
| | Rotary controls | | | Digital touch controls | |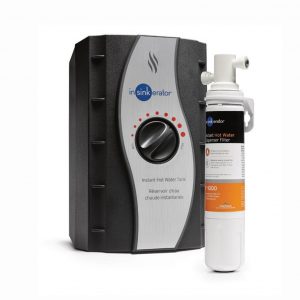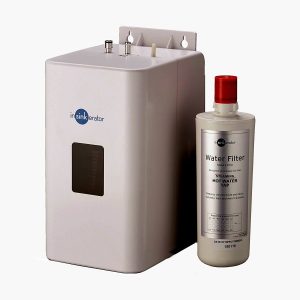 Why is the InSinkEartor HC1100LC our top pic?
This HC1100LC wins our top pick because it offers the best value for money and gives our customers the best deal on the HC1100C tap system. If you are not likely to use 100 cups of near boiling water per hour, then the original HWT tank system if more than suitable. It also comes with a 2 year parts and labour InSinkErator Guarantee comes at a much lower price than the NewTank system.
See the benefits of the InSinkErator HC1100LC here.
View all of our entire InSinkErator range to find your perfect hot tap for your home. If you need any advice or help choosing your new boiling water tap feel free to get in touch with us directly.